Since the Covid-19 shutdown and the increase in remote working, there has been an increase in online mediation training courses. While this reinforces the positive trend toward mediation, it also heralds the need for greater scrutiny and discernment between course offerings. Before you jump at the first course you see, look closely at the following criteria.
What are the Key Criteria for Choosing an Online Mediation Course?
Not all online mediation courses are created equal. Because there can be variations in course content, teaching methodologies, duration, accreditation, and overall quality, you should research and compare different courses to find one that aligns with your specific business goals and requirements.
Below is a checklist of some main things to look for in online mediation training.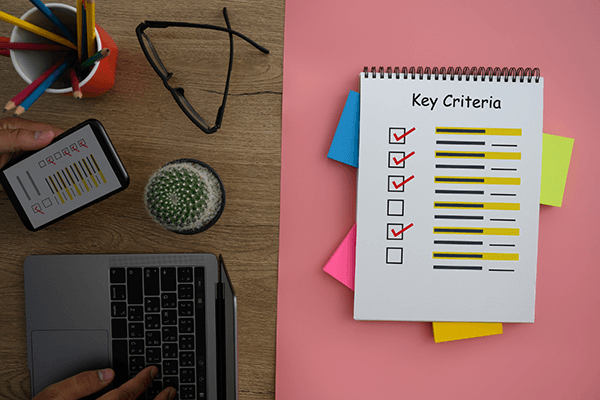 Experienced Instructors 
First and foremost, look for those programs taught by instructors with "real world" mediation experience; the more, the better. Review the instructors' bios and ask questions before signing. Have they been full-time instructors or full-time mediators? How many cases have they mediated? What kinds of cases have they mediated? 
In a marketplace seemingly filled with professional trainers, nothing will distinguish the herd better than the instructor's ability to blend theory with practical examples. Rich, practical experience developed through years of mediation will bring the learning to life and ultimately increase the quality of skill development.
Substantive and Interactive Learning
The best online programs offer an excellent opportunity for substantive learning in an interactive environment. The depth of substantive materials may be reflected in part by the length of the course, but closer examination also may be required to reveal the true level of content.
Moreover, we know from neurobiology that the best learning is experiential, including failure. Online courses are often long on lectures and miss valuable opportunities to incorporate reflective learning and practical skill development. Focus on content and a personalized approach to learning. 
A good training course should provide interactive elements, such as case studies, role-playing exercises, or simulations, as these can enhance your understanding and skill development.
Comprehensive Course Curriculum for Online Mediation Training
When researching an online mediation course, look for a comprehensive program that covers all the essential aspects of mediation, including opportunities to learn mediation theory, strategies, psychology, style, and practical skill development. Some of the things a comprehensive online mediation course should cover are:
Mediation fundamentals: Introduction to mediation, its purpose and principles, and how to apply them.
Convening techniques: How mediators should prepare for mediation.
Communication and listening skills: Techniques for active listening, effective communication, and understanding non-verbal cues.
The mediation process: Step-by-step guidance on the mediation process, including pre-mediation, joint sessions, and caucusing.
Negotiation skills: Practical techniques for managing impasses in conflict resolution, negotiation fundamentals, generating options, and facilitating agreement.
Cultural sensitivity and bias in mediation: How to recognize and acknowledge the impact of culture and bias in the mediation process.
Career development: Guidance on establishing a mediation practice, marketing a successful practice, and ongoing professional growth.
When considering online mediation training, also look for programs that offer the opportunity to see a course preview. This will give you a better sense of the delivery and quality of the content.
Engaging
There is a reason your children find it difficult to separate from their onscreen gaming. It's called engagement, and the best video games know how to draw the viewer into the virtual experience. Look for courses developed with professionals who understand how to design training to capture learners' attention and promote retention of course material. Online learning must be engaging to bring the student back time and again, eager for more. Anything less promises disappointment. 
Credentialing
Look for a course approved for certification by an established institution such as a respected university or bar association. Check with your local bar association or courts to learn the requirements for mediators in your community and choose a course accordingly. Beware of those courses that promise you will be a nationally or internationally certified mediator upon completion or make other unsubstantiated claims regarding post-curriculum credentialing.
If your goal is to get approved to be a court-appointed mediator, you should be aware that training requirements can vary greatly depending on the jurisdiction and the requirements set by the court system. Begin by familiarizing yourself with the specific requirements and qualifications for court-appointed mediators in your jurisdiction. This information is often available on the website of the relevant court or mediation association. Then look to obtain the necessary training and education in mediation. 
In addition to training, some jurisdictions have specific certification processes that include demonstrating a certain level of experience, completing a certain number of mediations, and meeting other criteria. 
Long-Term Learning
Many courses collect their fee and provide a passcode for a one-time engagement. Yet, most online courses represent only the beginning of your career development. Seek out those programs that offer additional resources and demonstrate a long-term commitment to your learning. Whether follow-up webinars, Q&A sessions, blogs, or personal follow-up, the best courses support your ongoing professional development and help you develop a deeper understanding of the practice.
Timeframe for Completing Course
Another important consideration is the timeframe for completing a course. Some programs will be full-time for several days/weeks, and then it is over. Other programs are self-guided. Check if the course is self-paced or follows a specific timetable, and ensure that the course duration aligns with your availability. Understanding how a program will fit into your schedule and how much time is required is essential.
Reputation
Various organizations, including private companies, associations, law schools, universities, and community colleges, now offer online mediation courses. You'll want to research the organization's reputation by reading reviews and ratings of persons who have taken the course. You may also want to reach out to colleagues and professionals in the field or in online communities related to mediation and ask for recommendations based on their personal experiences.
What Will an Online Mediation Training Course Help You Accomplish?
It is essential to know what you want to accomplish by undertaking mediation training, as it will guide you to the type of training provider that will meet your goals.  
Are you looking to build skills or gain more competencies and start a mediation practice? A mediation skills course that delivers basic mediation training is a starting place for you.
Do you already have experience in mediation and would like to advance your skills in the commercial mediation market for complex mediation? An advanced mediation skills course would best suit your needs.
Perhaps you are a lawyer and don't plan to mediate but want to take mediation training to better represent your clients in mediation. In that case, you should look for a training course in mediation advocacy explicitly created to help lawyers become better mediation lawyers/advocates.  
Regardless of what kind of mediation you want to practice – proactive, community, family, workplace or commercial mediation – learning the mediation process provides the foundation for all mediation careers. Once you have learned the process, you can decide if and how you want to specialize.
And, of course, be sure to consider our online mediation courses. They check all the boxes for the criteria outlined above. Edwards Mediation Academy courses are developed in partnership with top instructional designers and leverage the latest in adult learning research. They incorporate a self-paced format and are structured for the convenience of each student, to be taken in the student's environment and on their own timetable. 
Our instructors are pioneers in mediation; none have less than 25 years of full-time practice. They have taught best practices to thousands of aspiring and accomplished mediators worldwide. From starting your career in dispute resolution to sharpening your mediation skills and raising your game to the next level, we offer courses that are right for you.
Conclusion
By considering the key factors above, you can identify an online mediation course that aligns with your learning objectives, offers a high-quality educational experience, and equips you with the necessary skills to become an effective and professional mediator. Knowing what to look for in online mediation training is the first step toward an enriching and fulfilling practice in the mediation field.